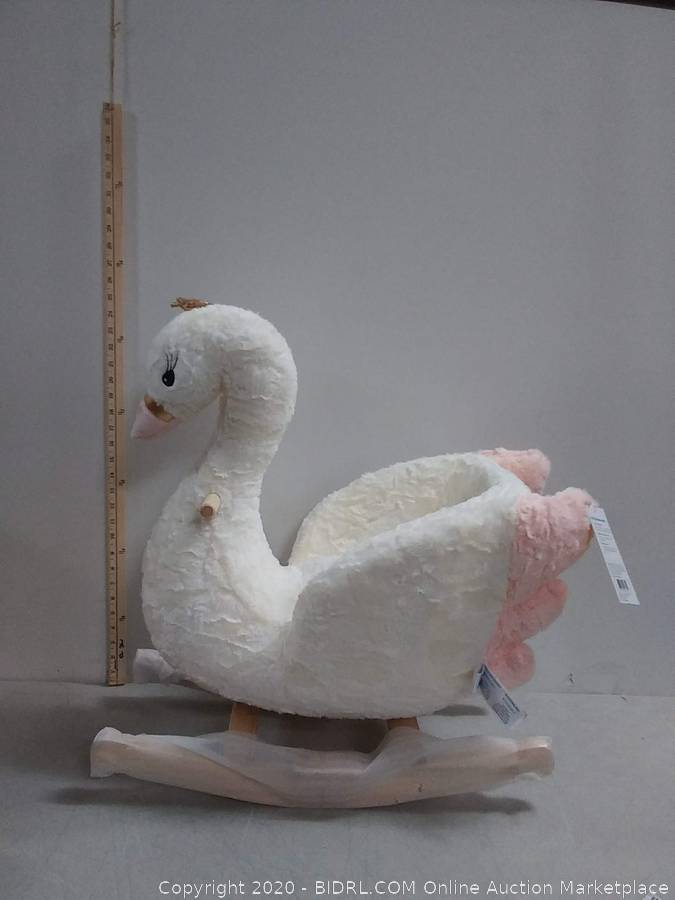 Lot #G5677:
Soft Landing Joyrides Character Rocker - Swan (online $72)
Bidding is

closed

.
High Bid:
$17.25
NA
Bidding Ended:
Mon, Feb 17 6:56:00 pm PT
High Bidder:
Oliver22
Bid Increment:
$0.25
Starting Bid:
$1.00
Item Location:

8905 Airport Road

,

Redding

,

CA

96002

Item has been viewed 35 times.
All items must be paid for in full within 5 days, and picked up within 10 days, of the auction closing date. This includes Sundays, Mondays, and Holidays.  Items not paid for or picked up within these deadlines are considered abandoned and will be relisted, without a refund if payment has been made. Please know that this policy is strictly enforced. If an extension is needed you must notify us by email only at BidRLRedding@gmail.com prior to the applicable deadline. Abusing this policy is grounds for terminating a bidders account. Verbal requests for extensions are not accepted.
BID WITH CARE: Items in this auction may be overstocks or returns, new or used, perfect or broken.  We share what we know about each item in pictures, titles or descriptions but we don't always know, don't test most items, and don't accept returns, exchanges or offer refunds.  If you have not previewed an item (physically inspected it in person) and must make an assumption about that item before bidding, assume it is broken unless the description states otherwise, then the item is probably fine, but it is always better to be safe than sorry.
---
| | | |
| --- | --- | --- |
| Bid Date | Bid Amount | Bidder |
| Feb 17, 2020 - 6:13:47 PM | $17.25 | iOliver22 |
| Feb 17, 2020 - 6:13:42 PM | $17.00 | iAnnaw385 |
| Feb 17, 2020 - 6:13:42 PM | $16.75 | iOliver22 |
| Feb 17, 2020 - 6:13:41 PM | $16.50 | iAnnaw385 |
| Feb 17, 2020 - 6:13:41 PM | $16.25 | iOliver22 |
| Feb 17, 2020 - 6:13:32 PM | $16.00 | iAnnaw385 |
| Feb 17, 2020 - 6:13:32 PM | $15.75 | iOliver22 |
| Feb 14, 2020 - 1:11:48 PM | $15.50 | iAnnaw385 |
| Feb 14, 2020 - 8:07:39 AM | $15.25 | iTrist2 |
| Feb 14, 2020 - 8:07:37 AM | $15.00 | iAnnaw385 |
| Feb 14, 2020 - 8:07:38 AM | $15.00 | iTrist2 |
| Feb 14, 2020 - 8:07:35 AM | $14.75 | iAnnaw385 |
| Feb 14, 2020 - 8:07:35 AM | $14.50 | iTrist2 |
| Feb 14, 2020 - 8:07:33 AM | $14.25 | iAnnaw385 |
| Feb 14, 2020 - 8:07:33 AM | $14.00 | iTrist2 |
| Feb 14, 2020 - 8:07:31 AM | $13.75 | iAnnaw385 |
| Feb 14, 2020 - 8:07:31 AM | $13.50 | iTrist2 |
| Feb 14, 2020 - 8:07:30 AM | $13.25 | iAnnaw385 |
| Feb 14, 2020 - 8:07:30 AM | $13.00 | iTrist2 |
| Feb 14, 2020 - 8:07:27 AM | $12.75 | iAnnaw385 |
| Feb 14, 2020 - 8:07:27 AM | $12.50 | iTrist2 |
| Feb 13, 2020 - 9:25:20 PM | $12.25 | iAnnaw385 |
| Feb 12, 2020 - 8:37:30 AM | $12.00 | iGitterdone |
| Feb 12, 2020 - 8:37:30 AM | $11.79 | i85delia |
| Feb 12, 2020 - 8:37:25 AM | $10.25 | i85delia |
| Feb 12, 2020 - 8:37:25 AM | $10.00 | iGitterdone |
| Feb 12, 2020 - 8:37:20 AM | $5.25 | i85delia |
| Feb 12, 2020 - 8:37:20 AM | $5.00 | iGitterdone |
| Feb 12, 2020 - 8:37:17 AM | $3.25 | i85delia |
| Feb 12, 2020 - 8:37:17 AM | $3.00 | iGitterdone |
| Feb 12, 2020 - 8:37:12 AM | $2.25 | i85delia |
| Feb 12, 2020 - 8:37:12 AM | $2.00 | iGitterdone |
| Feb 11, 2020 - 1:00:06 PM | $1.00 | i85delia |