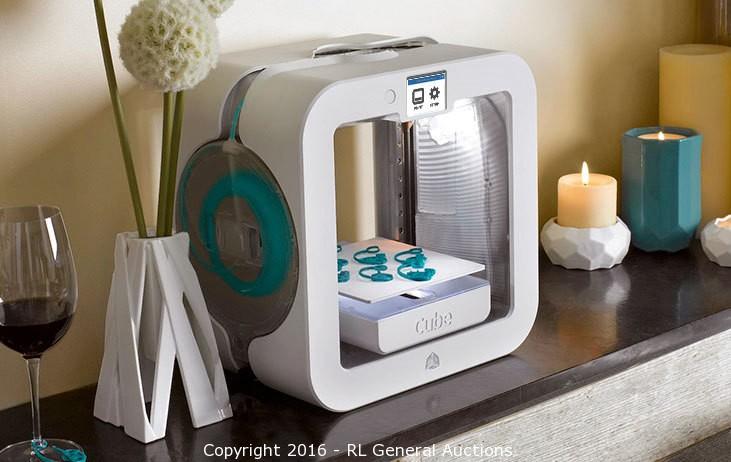 Lot #Bulk0003:
CUBE 3 Personal 3D Printer Retail ($999.99)
Bidding is

closed

.
High Bid:
$101.00
NA
Bidding Ended:
Thu, Oct 27 12:06:00 pm PT
High Bidder:
Skipper0816
Bid Increment:
$0.25
Starting Bid:
$1.00
Item Location:

840 N. 10th Street

,

Sacramento

,

CA

95811

Item has been viewed 160 times.
Packaging/ Power Cords: Each printer comes in a retail box.  Retail boxes have French power cords in them.  US power cords will be included for every unit, and will be packaged in bulk.  Each printer comes with a flash drive with a US (English) owner's manual.  These are included in each retail box.
Product Features:
Technology: Plastic Jet Printing (PJP)
Print Jets: Dual Jets
Maximum Design Size: 6" x 6" x 6"
Material: Tough recyclable ABS plastic or compostable PLA plastics
Layer Thickness: 70 Microns, Fast Mode: 200 Microns
Printer Dimensions: 13.5" H x 13.2" W x 9.5" D
Printer Weight: 17 lbs
Sold "As is / Where is" please preview to verify condition.
---
| | | |
| --- | --- | --- |
| Bid Date | Bid Amount | Bidder |
| Oct 27, 2016 - 11:54:20 AM | $101.00 | iSkipper0816 |
| Oct 27, 2016 - 11:54:21 AM | $101.00 | i4geelink |
| Oct 27, 2016 - 11:54:05 AM | $98.76 | iSkipper0816 |
| Oct 27, 2016 - 11:54:05 AM | $98.51 | i4geelink |
| Oct 27, 2016 - 11:53:49 AM | $95.76 | iSkipper0816 |
| Oct 27, 2016 - 11:53:49 AM | $95.51 | i4geelink |
| Oct 27, 2016 - 11:53:35 AM | $90.76 | iSkipper0816 |
| Oct 27, 2016 - 11:53:35 AM | $90.51 | i4geelink |
| Oct 26, 2016 - 9:00:46 PM | $89.75 | iSkipper0816 |
| Oct 26, 2016 - 9:00:46 PM | $89.50 | ioscar1st |
| Oct 26, 2016 - 9:00:43 PM | $89.25 | iSkipper0816 |
| Oct 26, 2016 - 9:00:43 PM | $89.00 | ioscar1st |
| Oct 26, 2016 - 9:00:38 PM | $88.75 | iSkipper0816 |
| Oct 26, 2016 - 9:00:38 PM | $88.50 | ioscar1st |
| Oct 26, 2016 - 9:00:35 PM | $88.25 | iSkipper0816 |
| Oct 26, 2016 - 9:00:35 PM | $88.00 | ioscar1st |
| Oct 26, 2016 - 8:59:33 PM | $46.25 | iSkipper0816 |
| Oct 26, 2016 - 8:59:33 PM | $46.00 | ioscar1st |
| Oct 26, 2016 - 7:33:28 PM | $45.75 | iSkipper0816 |
| Oct 26, 2016 - 7:33:28 PM | $45.50 | ikburk74 |
| Oct 26, 2016 - 6:51:39 PM | $45.25 | iSkipper0816 |
| Oct 26, 2016 - 6:51:39 PM | $45.00 | iWant to go to war |
| Oct 25, 2016 - 9:20:56 PM | $33.25 | iSkipper0816 |
| Oct 25, 2016 - 9:20:56 PM | $33.00 | iTeamzissou |
| Oct 25, 2016 - 11:50:07 AM | $25.25 | iTeamzissou |
| Oct 25, 2016 - 11:50:07 AM | $25.00 | iWant to go to war |
| Oct 25, 2016 - 11:49:50 AM | $24.75 | iWant to go to war |
| Oct 25, 2016 - 11:49:50 AM | $24.50 | iTeamzissou |
| Oct 25, 2016 - 12:39:43 AM | $24.25 | iWant to go to war |
| Oct 25, 2016 - 12:39:43 AM | $24.00 | iTeamzissou |
| Oct 24, 2016 - 8:30:07 PM | $10.51 | iTeamzissou |
| Oct 24, 2016 - 8:30:07 PM | $10.26 | imfinca |
| Oct 24, 2016 - 2:23:52 PM | $7.75 | iTeamzissou |
| Oct 24, 2016 - 2:23:52 PM | $7.50 | imfinca |
| Oct 24, 2016 - 6:45:28 AM | $7.25 | iTeamzissou |
| Oct 24, 2016 - 6:45:28 AM | $7.00 | i4geelink |
| Oct 24, 2016 - 6:45:14 AM | $6.01 | i4geelink |
| Oct 24, 2016 - 6:45:14 AM | $5.76 | iTeamzissou |
| Oct 24, 2016 - 12:54:31 AM | $5.51 | i4geelink |
| Oct 24, 2016 - 12:54:31 AM | $5.26 | imfinca |
| Oct 24, 2016 - 12:53:47 AM | $5.25 | imfinca |
| Oct 24, 2016 - 12:53:47 AM | $5.00 | i4geelink |
| Oct 23, 2016 - 10:28:49 PM | $3.25 | imfinca |
| Oct 23, 2016 - 10:28:49 PM | $3.00 | iWant to go to war |
| Oct 23, 2016 - 6:55:16 PM | $2.75 | imfinca |
| Oct 23, 2016 - 4:50:32 PM | $2.50 | iMtbidder |
| Oct 23, 2016 - 10:33:04 AM | $2.25 | imfinca |
| Oct 21, 2016 - 11:08:13 PM | $2.00 | iFunkyodor |
| Oct 21, 2016 - 8:30:29 PM | $1.75 | isab22 |
| Oct 19, 2016 - 1:56:55 AM | $1.50 | iFunkyodor |
| Oct 18, 2016 - 11:25:03 PM | $1.25 | iNo Picture |
| Oct 18, 2016 - 4:24:37 PM | $1.00 | iFunkyodor |